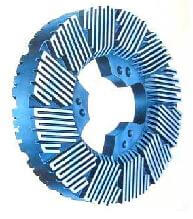 Refiner Discs Products company India
R.R.Engineers is a Manufacturer of Refiner Disc machinery products in India. Our product is on regular demand based Paper & Board production on Paper Mills. We always keep in mind about the requirements of consumer and latest trend so that our consumer remains up-to-the-minute and up- to-the-date. Our products are affordable with price as they are at genuine rates which no other brand can offer.
We have always tried winning the trust of our customer and made goodwill of our organization with our product quality and durability. We focus upon quality for making consumer's money worth and take optimum profit for long term & fruitful business relationship. We are always keeping ourselves in touch of consumer and take the feedback for customer satisfaction as consumer is king for us. We are using latest innovations and equipment's to produce good quality of machinery items.
Here is the list of some of our products that are in huge demand :-
1) Refiner Disc Set
TDR 13 Refiner Disc
TDR 17 Refiner Disc
TDR 21 Refiner Disc
TDR 24 Refiner Disc
TDR 26 Refiner Disc
TDR 30 Refiner Disc
DDR 18 Refiner Disc
DDR 20 Refiner Disc
DDR 24 Refiner Disc
DDR 34 Refiner Disc
2) Turbo Impeller
Turbo Impeller 300
3) Pulper Impeller
Pulper Impeller 500
Pulper Impeller 850
4) Pulper Screen
5) Pulp Valve
6) Gear coupling for TDR Refiner
7) Sleeve, Splined Shaft & Disc Holder for TDR Refiner
8) Rewind Knife
Refiner Discs Plates
Our own designed & developed products are Single Disk Refiners Disc, Double Disc Refiners Disc and Triple Disc Refiner Disc available in all sizes. Our products are popular for its better refining, durability& less power consumption due to correct ratio of Material (Alloy Steel & CA-40 Grade). We have received over-whelming response from our customers for the quality products we supplied. We can also prepare products according to your specifications depending on the designs with drawing given to us.
Products Refiner discs sets of available in SDR (Single Disk Refiner) 580mm Refiner Disc, SDR (Single Disk Refiner) 375mm Refiner Disc and DDR (Double Disk Refiner) 460mm Refiner Disc plates.