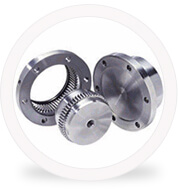 Our Quality Measurement
We are focused on the creation of value product and process innovation with quality when we create valuable product for our customers, we create goodwill for ourselves
Our most popular products are TDR & DDR Refiner Disc in CA-40 Grade which are dynamic balanced. We are also making Turbo Impeller and Pulper Impeller, Pulper Screen in S.S. 202 & 304, Pulp Valve, Refiner Disc Gear coupling, Sleeve, Splined Shaft & Disc Holder, Rewind Knife, all are delivered ready for install. We prepare Refiner discs in different tooth widths, groove widths and Bar angles as per your requirements of our clients and Machinery.
Our base structure is well equipped with new machines like heavy duty lathes, extra heavy-duty surface grinders, dynamic balancing machine, universal milling machines, mould machine furnace, heat treatment and casting shot blast machine and any more. All Type of Refiner discs prepared by us are built in house to fulfil all the requirements of our esteemed customers.
Every product manufacturing organizations are based on customer specifications. At R.R.Engineers, we take this equation a step further and contribute significantly to your vision by suggesting multiple ways in which your concept can be made even more viable from a technology standpoint.
In this site you can see just a few examples of Refiner Disk, Turbo Impeller and Pulper Impeller, Pulper Screen, Pulp Valve, Refiner Disc Gear coupling, Sleeve, Splined Shaft & Disc Holder, Rewind Knife. of course, we cannot introduce to you all our products hear so you are kindly requested to send us your individual Enquiries at Contact Us. We can assure you for the best quality and prompt after sales services & co-operation at all the times.
Advantages of our product
- Increase Production Rates
- Power Savings
- Longer execution Life
- Disc Plates are Dynamic Balanced
- Variety to Choice of Bar and Patterns
- You Can Choose Between Segmented and in Full Circle
- Made from High Strengths CA-40 Grade
- Inspection of Discs are Done at all Stages By Our Engineers
- Our Refiner Disc are used to Refine Waste Paper Pulp Both Local and Imported, Bagasse Pulp, Hard & soft Wood Pulp, Wheat Straw or Rice Straw Pulp etc
- Keep Your production Cost Reduce
- Reduced Plate Plugging Problems
- Improved Pulp Strength or Paper Quality Increased Refining Capacity
- Different Material to Suit Process Application
- Provide 100% Disk Starting breakage guarantee.
Customer Satisfaction: -
"A Satisfied customer is one who will continue to buy from you, refer other customers and in general be a Super Star advertiser for your business."